bikerumor.com
bikerumor.com gave us a nice review on their website. Check it out here.
Christian Artmann
Christian used his GearClamps to build up a Gates Belt Drive / Internally geared hub hardtail. Pretty cool. Click on the photo to check out the full story behind the project bike.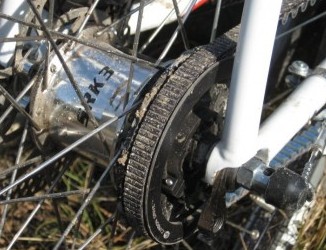 Review from Ray, GearClamp prototype tester:
I answered the post the other day from christopher over at gearclamp to test out a new product of his and a couple of days later i received the package with the device inside. looked like a simple solution to a small pain in the ass problem but i liked the looks of it. so this morning i took off the old spacers and the locknut thingy (of course i needed two special tools for that job) and slipped the gearclamps on each side of my cog and slid it on. a simple adjustment of the chainline and tighten two screws and you are done. went to big cedar to ride/test and forgot all about it. and you know what thats what i like about it. no fuss no hassle no thinking about it. works great. i have a bin full of cog spacers now for sale if anyone needs some, i won't be going back to them.
Review from Brady, GearClamp prototype tester:
Received the gear Clamp in the mail last week a few days before the weekends race. Soon as I pulled it out of package I thought to myself that this was going to work and work good. I installed it with ease and the ability to quickly get chainline correct was just great..like a few seconds. Tightened the screws and BAM..done. Raced with no problems, showed it to everyone I could, already have one person call me about it wanting to know when available. I won the race by the way! Will keep you posted and looking forward to reporting good things on the survey. Thanks for letting me a part of this test.
All content Copyright GearClamp 2009. GearClamp is a Patent-Pending product.